This beauty is a modular origami design by Robert J. Lang. Regarding this design he just wrote:
This polypolyhedron is made from a 12x1x5 arrangement. It makes a nice woven ball.
As a huge fan of modular origami I looked for a new challenge. So I came to make a crease pattern for it as there was none.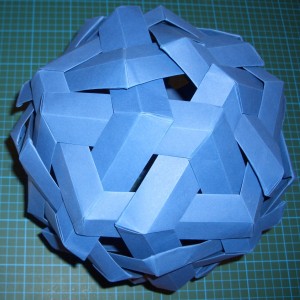 This design is a polypolyhedron. It is referred to only as 12x1x5 as it has no name yet. I just call it "the woven ball". It consists of 12 pentagons woved together into a smooth sculpture. So there are 60 edges for this design. Each edge has the same creasing pattern and is linked to the others only by folding. No glue or someting similar.
If you are interested in the family of the polypolyhedra: there is a complete essay about the exploration of all polypolyhedra. You can find it here: Robert J. Lang – Polypolyhedra.
The creasing pattern is made by myself as I couldn't find it anywhere on the internet. As far as I know, nobody ever tried to create this particular polypolyhedron.
This is actually my second attempt. The first version had some minor bugs like small deformations due to a non optimal length-width ratio. And the creasing pattern was more complicated.
I took the time to make an instruction. Have a look and try it yourself!
woven ball module creasing pattern