Easy and quick changing of the looks of PartyPoker – background images, cards and much more.
I am proud to present you the SkinChanger: free and open source!
The SkinChanger helps you to "skin" the PartyPoker software. It copies the necessary files to the right directories. You can flexibly arrange your skin seeing a preview before it is installed.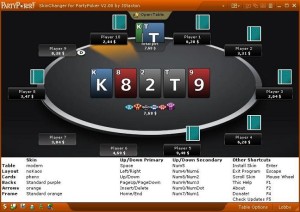 Download
SkinChanger.exe (version 2.05) (ca. 380KB)
What the program does for you
Compatible to both english and german PartyPoker client
Organizing complete skins
Changing of skins (layout, cards, …) with shortcuts or scrollwheel possible
Automatically creates a backup of all PartyPoker client images
Looking for updates & downloading them automatically
Looking for skins & downloading them automatically
Complete preview of the selected skins
Layout, cards, arrows, frames & cardbacks can be individually arranged
Full portability; program dir is specified by the user
Donate function, to help the project
Content of the program
SkinChanger program (.exe)
layouts (39 classic, 13 modern)
arrows (5 classic, 8 modern)
frames (12)
cardbacks (13 classic, 14 modern)
Installing
Installing is easy. It breaks into 2 parts: Setting up the PartyPoker software and downloading SkinChanger:
Set the following options in the PartyPoker software
Table Options->General Options: check "Enable 4-color deck" AND uncheck "Display charakter/player image on table"
Player Image->Classic Table Characters: "Classic characters"
Themes: Card Decks: "Default"; New Table: "Default"; Classic Table: "Default"
Install SkinChanger like this
Download the SkinChanger programs (see section Download)
Start SkinChanger.exe
If you already have a Skin folder then click "Yes", browse to that directory and select it; otherwise click "No"!
Source code
You can download the source code and compile your own exe.
Donate
Here you can make a donation for the SkinChanger project. These donations help keeping the SkinChanger up and running.
Disclaimer
I did what I could to prevent major program bugs, but I cannot guarranty freedom from error. Use it at your own risk. What I can guarranty is that I wrote the code by myself (except the scripts that come with AutoIt) and that I am hosting all files on my webspace.
---
Contact regarding SkinChanger
email: jonathan.staxton@gmail.com
ICQ: 138 674 268
MSN: jonathan mnemonic
Skype: Jonathan Staxton